Do Less. Sell More.
Sell through more channels, target more customers, reduce bottlenecks, reduce duplication, reduce mistakes, GROW your business. And do it all without any extra effort.
Request a demo
Stockhandler allows you to manage multiple stores from within a single system. Simply list your products once, sit back, and watch us do the rest for you.

Multi-channel inventory listing & order fulfillment across eBay & Amazon Marketplaces worldwide & ecommerce websites with no software to install!
Rapid listing of your product inventory across all your sales channels
No up front investment , No minimum contract
Success based pricing at 1% or less!
30 day no obligation free trial - no credit card required
Request a demo
A member of our team will be pleased to show you what stockhandler can do for you and answer your questions
Start your free trial
Try it out with a 30 day free trial. Connect your eBay/Amazon accounts to import your product listings and you're ready to go
Grow your business
Sell through more channels, reduce bottlenecks, reduce duplication, reduce mistakes, make more money!
Add once, list everywhere
Enter your product information just once and we'll pass it to all of your channels.
Order fulfillment
Manage all of your sales orders centrally, see sales totals of all channels combined.
Inventory management
Manage your products, product types, stock movements and stock levels centrally in Stockhandler.
Shipping integration
We've integrated with the leading shipping providers to manage your shipping, labelling and tracking procedures.
Sales and margin reporting
What's selling? What's not? What's selling for more on which channel? Our reporting will give you real insight.
Stock level syncing
Sell on one platform, and your stock is updated on all. Receipt more stock, your levels are instantly up-to-date.
Automatic repricing
Maintain selling boundaries on your inventory and we'll make sure you sell for the optimum fee.
Customer management
A central location for all your channel customers, you view sales history or create contacts.
Flexible API
Whether it's for integration into other systems or reporting our API lets you get hands on.
Web Stores

We support most of the leading eCommerce platforms

Marketplaces Our marketplaces, including eBay and Amazon, boast
over 1/2 a billion customers.

Social Sites Advertise new products and special offers on Facebook
and Twitter.

Direct Sales Manually enter your orders for over the counter
or telephone orders.

Point of Sale Integrate directly to your ePOS system to sync online
stock when you make a sale.

Anywhere Else! With our flexible API you can connect to a limitless
number of other systems.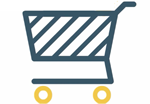 The first episode in our tutorial feature is how to use and reap the benefits of our One Minute Listing feature on the system.


Product identifiers will soon be required to list branded new and manufacturer refurbished items in specific categories, making it easier for buyers to quickly find what they're looking for.

Stockhandler.com has recently won the 'Get Set to Export' competition hosted by UK Trade & Investment (UKTI).
Seeing is Believing

A MEMBER OF OUR TEAM WILL BE PLEASED TO ANSWER YOUR QUESTIONS AND SHOW YOU A DEMO OF WHAT STOCKHANDLER CAN DO. WE WON'T GIVE YOU THE HARD SELL – JUST THE INFORMATION YOU NEED TO MAKE THE RIGHT DECISION FOR YOUR BUSINESS. PLEASE ENTER YOUR DETAILS BELOW AND WE WILL BE IN TOUCH SOON. WE WON'T SHARE YOUR INFORMATION WITH ANYONE ELSE.